New Classica 3 model
List Price
€89,97
Sale price
€69,97
Unit price
for
On offer
Sold out
The new Classica 3 in Gold Titanium OX (burnished gold) color by Madrigal is a rechargeable table lamp made of painted aluminum with a polymethylmethacrylate diffuser. Its 20 intensity-adjustable LEDs produce a pleasant warm, natural light. The touch surface - in this model even larger and more beautiful - located on the diffuser (backlit by additional LEDs) allows you to turn the lamp on and off and also has a dimmer function with memory, to adjust its brightness. The long-life battery allows from 9 to 48 hours of continuous light, depending on the set intensity.
The Classica 3 lamp embodies elegance inspired by the classic shapes of floor lamps from the 1980s onward, with a cone-shaped shade and a round base. Its 38 cm stature makes it ideal for lighting your table with perfection, creating a welcoming atmosphere. In addition, with Classic 3 battery pack replacement that can be done independently. This lamp has an easy-to-connect reversible USB-C connector.
Features: Made of aluminum - Exclusive coloration with the highest quality oxidation process (OX colors) - Easy-to-connect USB-C plug - Superior power: 3.5 W at maximum brightness - Larger 5200 mAh batteries that can be replaced independently.

Operation

The lamp turns on and off with a quick touch on the touch surface of the lampshade.

Adjusting the brightness: When the lamp is on, keep your finger on the touch surface of the lampshade until the desired brightness is reached. When the lamp is turned on again, it will return to the last brightness setting.
Recharge

To charge the lamp, lift the protective cover under the shade and connect the included USB-C cable to the standard USB power supply included in the package. A red indicator light signals the charging status of the lamp. Charging is complete when the light turns green.
Shipping and returns

Fast international shipping to Europe. Return within 30 days.
Share
View full details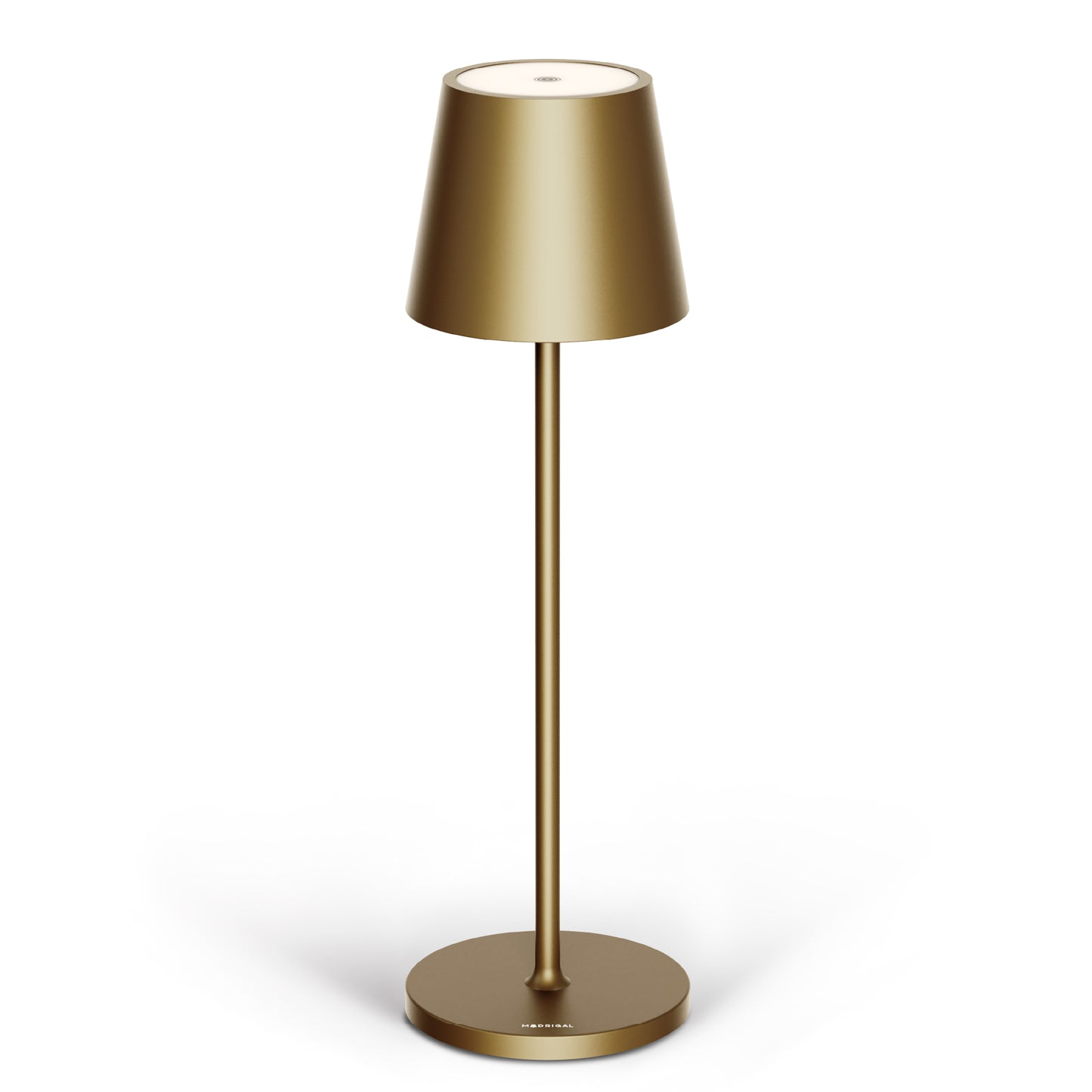 The new Classica 3 Lamp
Classica is a rechargeable table lamp designed to add a magical atmosphere to your dinner parties. Its 38 cm stature makes it ideal for lighting the table with perfection, creating a cozy atmosphere. Classica 3 has a new elegant round base and offers the freedom to replace the rechargeable batteries independently.
LAMP FEATURES
Coloring
Special OX: high quality oxidation process
Luminous flux
20 LEDs - 240 lumens - CRI 95+
Diffuser diameter
10.5 cm
Height
38 cm
Base width
11 cm
Weight
750 grams
Controls
Touch on + linear dimmer with memory
POWER AND BATTERY
Input and consumption
5V USB - 3. 5W maximum consumption
Battery
3. 6V 5200 mAH (2 x 2600 mAh) replaceable
Battery life
9 - 48 hours depending on the brightness setting
Charging time
6 hours with 2A (10W) power supply
OTHER FEATURES
CE mark
✔
Degree of protection
IP54 - Indoor and outdoor
Package Contents
Led lamp + USB C cable + 10W charger
EAN
8052141101131

Versatile: indoors and outdoors
Classica is super versatile: you use it for dinners with friends, at home or outdoors. You can take it to the beach or the park, to the balcony or terrace, you can use it on bedside tables or to light up your aperitif. It charges using a universal USB-C cable.
Battery operation

Classica works thanks to a high-capacity battery built into its shade. The battery lasts that long: 9 hours at maximum brightness but when the intensity is lower it lasts that many hours. In the package you'll find the easy-to-connect USB-C cable and 10W quick charger.

Touch and charge led

The touch button has been redesigned to be more attractive and discreet. Touch the touch surface to turn the lamp on or hold to adjust the brightness. Classica's dimmer has memory: when you turn it back on, it returns to the last brightness setting. When it is charging, the green light signals that charging is complete.

Clean, minimalist design

Classica is designed to be beautiful. Its base is linear, solid and minimalist in design. This allows it to be suitable for any environment and decor. At the bottom it has a non-slip surface: Classica is also perfect outdoors because it is stable even if it is windy.

Gift box

Beautiful inside and out: Classic has a printed cardboard box with a minimalist design and is also suitable for a gift. In the box is a quick-start guide in 5 languages, the charger with an impressive 10W of power, and the reversible and easy-to-connect USB-C cable.
Other lamps of the same color
Rechargeable lamps in Gold Titanium OX color
Fast shipping

Get Free Shipping to Europe easily

30 days for returns

You can return the product to us and receive a refund

Secure Payments

We accept Cards, Paypal, Bank Transfer

Certified products

Quality products certified by CE, RoHS